Kröller-Müller Museum
Visit the sculpture garden
The sculpture garden of the Kröller-Müller Museum is open to the public. The collection and exhibitions in the museum building itself remain closed for the time being. The Kröller-Müller Museum has one of the largest sculpture gardens in Europe. An outdoor gallery measuring 25 hectares in which modern sculpture finds a natural setting. The garden exudes a different ambience with every season.
Image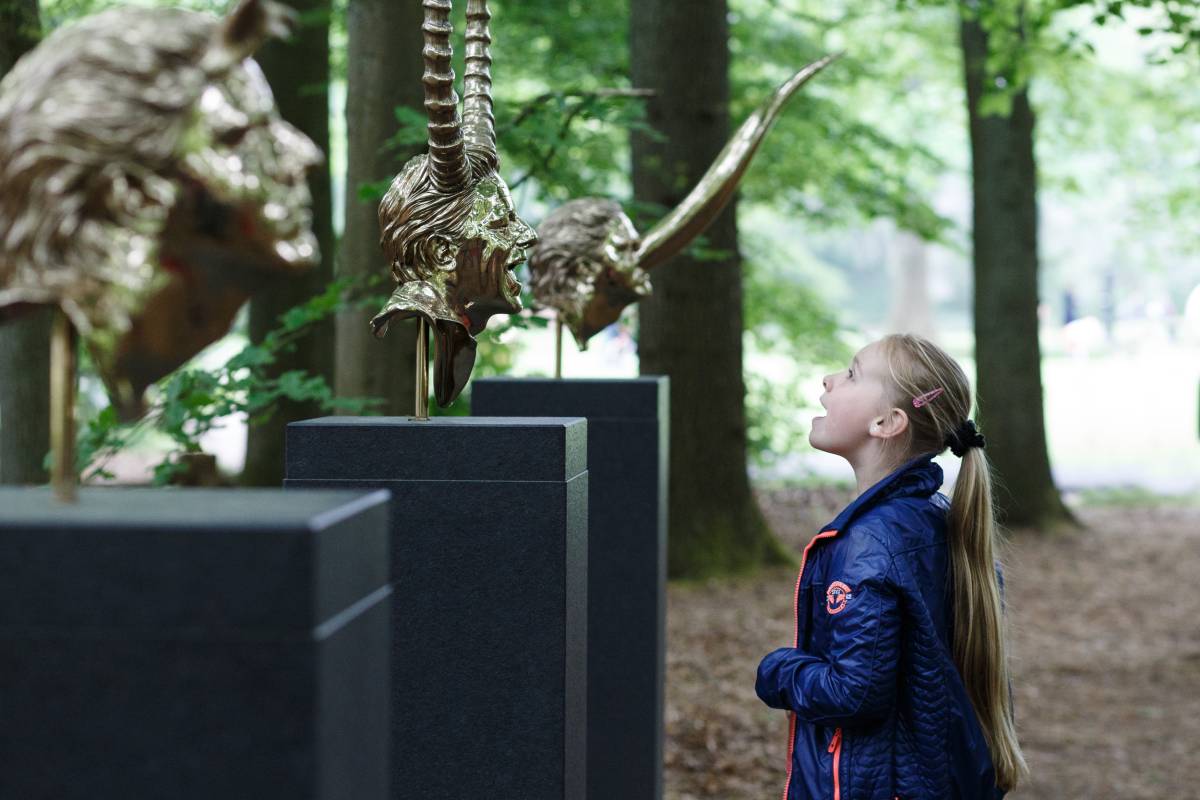 Enjoying both sculpture and nature
Over 160 sculptures by iconic artists are dotted around the garden; from Aristide Maillol to Jean Dubuffet, from Marta Pan to Pierre Huyghe. The garden is also adorned by two pavilions, by Aldo van Eyck and by Gerrit Rietveld: architectural gems from the 1960s that were given a new home here.
The surroundings elicit pure enjoyment, of both sculpture and nature. Pleasantly sprawled in the grass, cosily picnicking together or running circuits; all this is possible in the sculpture garden.
Jardin d'émail by Jean Dubuffet
After 5 years of renovation, this imposing artwork by Jean Dubuffet is gleaming again. Touching Jardin d'émail, walking on it, and even playing there is allowed!
Different opening hours for Jardin d'émail
Jardin d'émail is accessible, but only when the surface is completely dry. The work is closed for maintenance every last Monday of the month. It is also inaccessible during or shortly after rainfall, due to the risk of slipperiness. Jardin d'émail by Jean Dubuffet has different opening times. Read more.
Image
Accessibility sculpture garden
The sculpture garden is largely accessible with a wheelchair or mobility scooter. There are, however, also unpaved paths that are not suitable for wheelchair or mobility scooter users. You will find all the necessary information on the map of the sculpture garden. To the maps.
Kijk Uit Attention closed
In line with national policy relating to the coronavirus, Kijk Uit Attention by Krijn Giezen is closed until further notice.
Image
De Hoge Veluwe National Park
A visit to the Kröller-Müller Museum is a real experience. A voyage of discovery that begins at the entrance to De Hoge Veluwe National Park. It is recommended to combine a museum trip with a picnic, a walk or cycle ride. Buy your ticket for the Het Nationale Park De Hoge Veluwe here.
Sculpture garden open, museum remains closed
Find out more about the opening hours and prices of the sculpture garden.
Purchase ticket online
You can only visit the sculpture garden with a ticket purchased online. This is to avoid having too many visitors at the same time. with a time slot will be available in phases. In this phase, tickets for a visit until 31 May 2021 are available. Purchase your ticket.
Kröller-Müller Museum
Houtkampweg 6
Otterlo
krollermuller.nl