Het Noordbrabants Museum
Presentation entirely dedicated to Vincent van Gogh
The artist Vincent van Gogh (1853-1890), born and bred in Brabant, has been given an increasingly prominent place in Het Noordbrabants Museum in recent years. After all, Brabant is where he began his painting career. The landscape and people of his native region inspired him, providing themes to which he remained faithful throughout his artistic life. Therefore, it felt right to devote an entire presentation space to the artist. The museum will open the permanent, extensive presentation Van Gogh in Brabant: paintings, letters, photos, animations, and other objects tell the story of Van Gogh's early artistic life and his affinity with his beloved Brabant.
The only place in Brabant displaying Van Gogh's work
Het Noordbrabants Museum is the only place in Brabant displaying Van Gogh's inspiring work. Following its first purchase in 1984 and supported by a gradually increasing number of loans from fellow museums and private lenders, the museum has been able to consolidate its collection over the past four years. Given the growing Van Gogh collection and Van Gogh's relevance to the province of North Brabant, it seemed important to devote an entire room to the artist and present his Brabant-inspired work in a broader context.
Image
Paintings at the core
The new presentation focuses on Van Gogh's development as a painter and highlights the main themes from his period in Brabant: the rural environment, peasant life, and still life. Five of the twelve works in the presentation belong to Het Noordbrabants Museum The other works are loans from collections of the Van Gogh Museum, Cultural Heritage Agency, Rijksmuseum, Centraal Museum (Utrecht), and private lenders. Over the coming years, the museum will display alternating series of selected works from Van Gogh's Brabant oeuvre. The museum will also remain open to making new purchases.
From Brabant's 'painter guy' to worldwide phenomenon
The presentation will, of course, also focus on Van Gogh's life. Vincent lived half of his life in Brabant, the region that shaped him. The presentation follows a timeline supported by personal documents, photos, and animated letter fragments that reveal more about Vincent's life. Van Gogh's link to Brabant's cultural heritage is also explored in his paintings of objects such as baskets, shovels, and hats, which illustrate the reality of everyday life. The presentation also shows how Van Gogh grew from Brabant's 'painter guy' into a worldwide phenomenon.
Image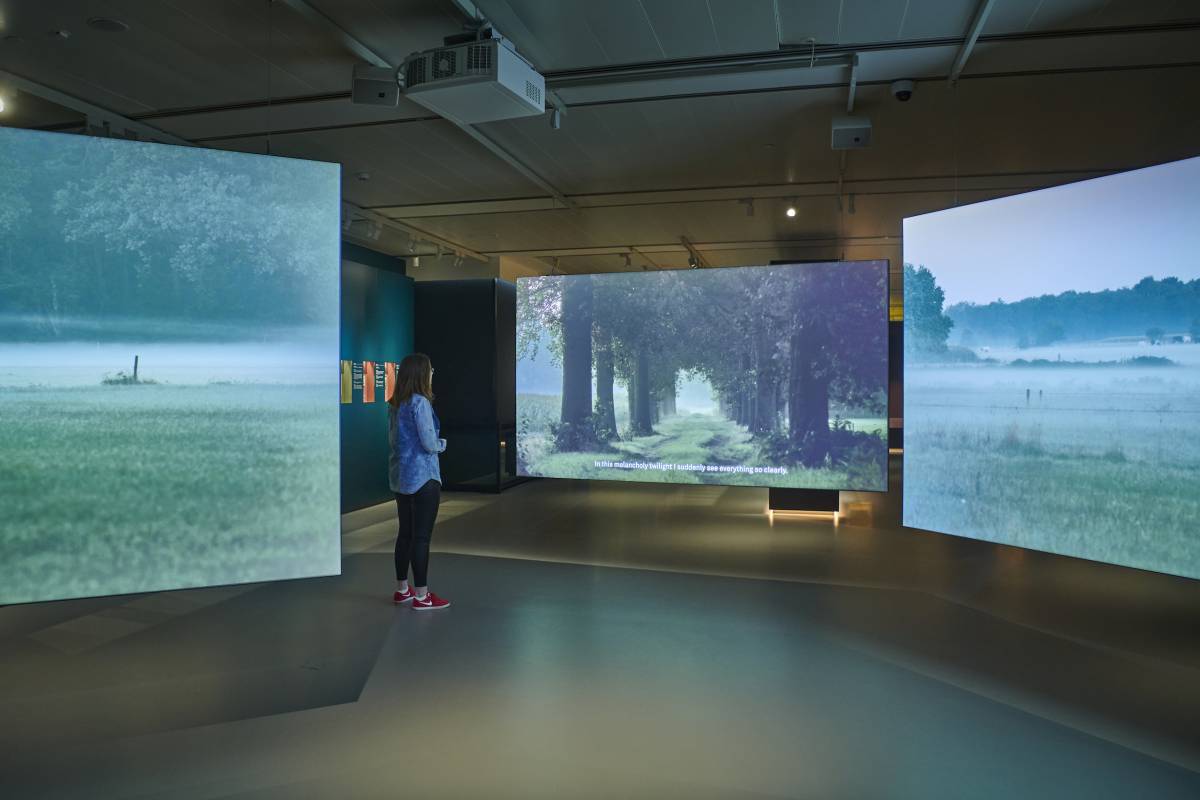 Poem by Marieke Lucas Rijneveld
International Booker Prize winner Marieke Lucas Rijneveld wrote a poem about Van Gogh, especially for this presentation. Reading his letters and studying his work, she created a triptych poem that captivatingly articulates Van Gogh's thoughts and feelings. Marieke Lucas herself recited this poem in the film by Roel van Tour, also shaped like a triptych, which is shown on large screens at the entrance to the presentation room. The powerful images of some of Brabant's still pristine landscapes, and the striking words of Marieke Lucas, immediately transport visitors to the Brabant farm life of the time and the world Van Gogh lived in.
Digital visit
Because the museum knows that many people may be reluctant to visit the museum physically, they launch a new digital visit on 26 March. The now permanent presenter of the online museum tour, Lucas De Man, will take visitors through the new presentation. With a good dose of humour and an eagerness to learn more, he asks our curator Helewise Berger all about Van Gogh's life. You can join the tour free of charge here.
Het Noordbrabants Museum
Verwersstraat 41
's-Hertogenbosch
hnbm.nl