I am a kind of builder of my dreams
Sculptor Harald Vlugt
In an old liquor distillery in Amsterdam's middle of the Jordaan, I meet sculptor and collagist Harald Vlugt, an icon in the art world. In his studio, he surrounds himself with his art collection, works of art by himself, and fellow artists from all over the world. He exhibits his significant collage works; a colossal work table dominates the center of the studio. He sets high standards for his collages that he needs an improbably immense archive, in which everything is archived in such a way that he can immediately find every detail. The students at his Art Academy, Beeldproeverij, also use this archive and a particular printer in the studio. Energetically and full of enthusiasm, he talks about the adventure that is his life, where he is now, and what may come.
Harald, you have experienced a lot; what was your best adventure so far?
In terms of work? I have done so many things. Perhaps the project in Japan, the replica of Palace Huis ten Bosch, I designed sculptures and ornaments. Also, the project titled, Upstream that I made on the occasion of the 50th anniversary of NATO in Brunssum, or the Venice Biennale in 1989 in Palazzo Sagredo with Henk Visch, Niek Kemps, Fortuyn/O'Brien, Peer Veneman, Pieter Laurens Mol.
Image
The referenced media source is missing and needs to be re-embedded.
It's all about taking a stand, focusing, diplomacy, deepening, and hard work. How do you see yourself? How do you want to position yourself; how do you deal with yourself and with your artworks? Very early on, I was thrown in at the deep end. After completing my studies, I was immediately one of the alternative gallery Aorta initiators; we created a platform where hundreds of artists could exhibit their works.
Together with Aldert Mantje I worked on a vast installation, for which the found inventory of a Chinese restaurant became the starting point. It became a kind of landscape, with pickups spinning around, Radio Moscow sounds, we built armies with plastic dolls we bought from children on Queen's Day. Insane, surreal work. At the opening, almost 1200 people walked around; we worked very hard to get to where we wanted to be.
Image
After the opening Mantje and I, both went on a week-long trip. When we returned, the NRC published an article written by art critic Paul Groot, who praised our project. From then on, people in three-piece suits and reporters visited the gallery, including reporters from Art in America magazine. We were asked what the exhibit's philosophy was in the 1980s, but we had just spent six months doing construction work. Peter Giele was the builder; we did the thinking and gave interviews.
Galerie The Living Room in the Jordaan, a vital avant-garde gallery, invited Aldert Mantje and me to exhibit. Then I got a work-grant to settle and work in New York, where my artworks were exhibited at West Broadway 420. After New York, I went on to Paris, where I had several solo exhibitions. For a year, I lived and worked at the Van Doesburg House in Meudon Val Fleury near Paris. The works I made there I exhibited in 1994, during my solo exhibition 'Senses Of Reality' in the Stedelijk Museum in Schiedam, which then traveled on to museums in France.
Image
Did you come to believe that anything was possible?
Oh, but I've always had that.
Where did that come from?
I was bold. My parents trusted me blind, which influenced me a lot. Being a child, I earned 75 guilders every Saturday washing cars; I later traveled to Nepal, India, and Thailand with the money I saved. I traveled in all directions on business, from North, Central, and South America, to the Middle East, the Far East, Australia, New Zealand. I was able to see a lot of the world, which is an excellent source of inspiration.
Why do you choose collages as an art form?
I have always had a fascination with the 'de-aura' of existing images, recycling them, and giving them new meaning. With collages, you pull something out of the lead; I give it my twist. Art is about the difference between looking and seeing; there is a kind of switch. For me, it is related. Quality is essential; I know what I'm doing and often work together with engineers from the Talens laboratory in Apeldoorn, who can advise me about everything in terms of technique. If at all possible, my works must survive generations and be able to fly around the world, however fragile they may be.
Image
I prefer to work in a broad field: on Monday a collage to be published in the NRC, on Wednesday for a book with Adriaan van Dis, on Friday working on an art project in the public space. As an artist, you have to deal with the conglomerate of museums, galleries, collectors, critics; companies also play an essential role. I advise young artists to look at what they can give back to companies that sponsor them. I want to be businesslike so as not to be commercial. Despite all the romanticism in the art world, an artist also buys freedom with money.
An artist's art collection is a self-portrait in disguise. In all parts of the world where I lived, worked, and exhibited, from Auckland to Montreal, the Caribbean to Nagasaki, I traded or bought artworks. My art collection is now brought together in the exhibition ColleXposition, at Xtandit's headquarters. The exhibition and accompanying book exhibit 87 artworks by 31 artists from 19 countries.
Image
Last months I worked 14 hours a day, seven days a week, on new work. I never have to look for inspiration, I have to open the tap, and it flows. I am a kind of builder of my dreams. I have developed so many ideas; even if I had to stay indoors for five years, I could still move forward with everything I'm working on now.
I will be exhibiting my new works in New York and on a Ritz-Carlton super-yacht traveling in the Mediterranean next summer. On the ship, I have a 15-meter wall at my disposal. Previously I made large art projects for cruise ship companies, such as the Majestic Theater Curtain for the largest theater on the Queen Mary 2. For the cruise ship MS Nieuw Amsterdam of the Holland America Line I made an enormous collage of 2 by 7 meters.
Image
Kees Wieringa has asked me to provide master classes in his new art institute at Fontainebleau below Paris. I am, of course, happy to cooperate with that.
I was also recently asked to help organize an Artist-in-Residence program on Gran Canaria. The owner of a house in the middle of the island approached me and asked if I could coordinate this project. It is a beautiful place, on top of a hill, near the cave where my good friend Manolo Gonzalez has an impressive studio. At the Regenta Art Centre, I gave young artists workshops; I taught there in four languages. As soon as I can, I am going to Las Palmas to set up this project; the plan is to bring Dutch artists together, visual art meets literature.
Image
Visual art and literature are a beautiful symbiosis, also in the books I made together with Joost Zwagerman and Adriaan van Dis. A few years ago, Adriaan van Dis was approached by a publisher to make a book about the interaction between literature and visual art. Adriaan asked me to do this together; we were both enthusiastic about the result, Totok 2. I gave Joost a copy, and a curse came out of his mouth, meaning something like, I want that too.
We came up with the plan to make a book about the inner man. Joost wrote poems, almost in a Biesheuvel way. Insane, wacky lyrics about his father's testicle ending up in the mother's lower abdomen, that sort of thing. Eventually, the format for Before and After the Masterpiece was created, the book about the inner man was never published.
Image
For this book, Joost wrote nine poems about prominent iconic artists, to which I responded with an image to accompany the poems, a difficult assignment. Joost looked at the artists' works over his partner's shoulder. In the poem's case about the work Naomi by Marlene Dumas, I thought you just wanted to see the work itself. So, I copied the work, also in mirror image, placed a transparent sheet over it to read it in planes, worked with details from billboard posters, and then made my interpretation of the painting. Before and after the masterpiece was sewn with a sewing machine, it was a beautiful design by Mart Warmerdam for Publisher 99.
What did your friendship with Joost Zwagerman mean to you?
Joost was a dear and close friend; I carried his coffin. His partner asked me to speak at his funeral, which was difficult. My friendship with Joost was organic, natural. I think his books are fantastic, and I have great admiration for what he has achieved as an essayist and columnist, including on DWDD. It is truly sad he is not among us anymore.
Image
In the year 2000, we released an ultimate, hand-bound book that we had worked on for five years, The Nomad. Joost Zwagerman and Luc Van Peteghem were literary curators; Pieter Bijwaard and I were curators for the visual arts. All this under the inspiring leadership of Robbert Jan Blekemolen. The cover is made of sheepskin with linen and plated with 24-carat gold leaf. Handmade paper sheets in the book, it weighs 8 kilos. Our goal was to create a blatantly beautiful book that actually couldn't be made. We didn't make a penny from it. However, we found 20 people willing to purchase the book in advance which allowed us to launch the project.
The book was exhibited with the first copies sold to Stedelijk Museum Amsterdam, the Public Library, and collectors. Within 24 hours, all 90 copies were sold, people went crazy. The artists and writers received a copy for their contribution, the last copies we kept ourselves, as initiators. It has become a beautiful book to which Joost Zwagerman, Adriaan van Dis, Pieter Bijwaard, Ulay, Cees Notenboom, Pieter Boskma, Hafid Bouazza and so on contributed.
Image
Are you constantly working?
Yes, I like to work. I love my work, so I work for pleasure.
Where does free time stop and start, and what is your favorite way to spend it?
Sailing our little boat in the Amsterdam canals. In the car, we have a kayak, so we can always enjoy the water and the surroundings wherever we are. That's a fun toy.
So, you have a lot to do with water, is that also related to your hometown Bergen?
Many of my works are also about water. I will name my next solo exhibition after my previous artwork, Wonderfall. My parents used to get us out of bed when 'the sea was lightening'. In the autumn, my mother took pea soup to the beach; I had a loving childhood. In my youth, Adriaan Roland Holst came over. Also, Matthieu Wiegman, various musicians all appealed very much to the childlike imagination.
Image
In the exhibition Kompas Bergen, in the salon of the estate Het Hof in Bergen, I exhibited more than 1000 original, antiquarian postcards of Bergen and Bergen aan Zee. It was a conceptual approach that was inspired by the history of my birthplace. The postcards were positioned so that you looked in exactly the direction where the spot of the card could be found from the center. The oldest cards are from before the year 1900; all black and white, the only color addition is formed by cards that were colored with ecoline. This collection is of historical value to Bergen and should be documented there.
You can read a whole history on a postcard, not only in the image but also in the stamps and the texts written on the card. I can tell from the card's publisher, from the technique and the typography of such a card, what place and what year it is. That is fascinating.
Image
Why do you build these archives and collections?
Collecting is a man's thing that has been scientifically proven. But there is a misconception towards men's collecting urge. Women think it's all about the collection, but it's about the collecting. It's about the work. My archive consists of photographs. As a child, I collected. The passion I have always had ample.
14 april 2021
Harald Vlugt lives and works in an old Bols liqueur distillery in Amsterdam's Jordaan district, where he also maintains his unique archive. He was one of the alternative gallery Aorta organizers in the old NRC building in Amsterdam. In the first years, he formed an artist duo with Aldert Mantje.
Image
In 1985 Vlugt received a grant to live and work in New York for six months, where he exhibited at Gallery Germans van Eck on West Broadway 420, among other places. From 1986, Vlugt shows his works at Galerie Nikki Diana Marquardt on the Place des Vosges in Paris.
His works are shown at the Venice Biennale, in the exhibition "La Giovane Scultura Olandesi". In 1990 Vlugt lives and works for one year in the Van Doesburghuis in Meudon Val Fleury near Versailles. He designs and makes bronze ornaments and sculptures for the replica of the Palace Huis ten Bosch in Nagasaki, Japan, where Rob Scholte painted the 1200 m2 mural.
Image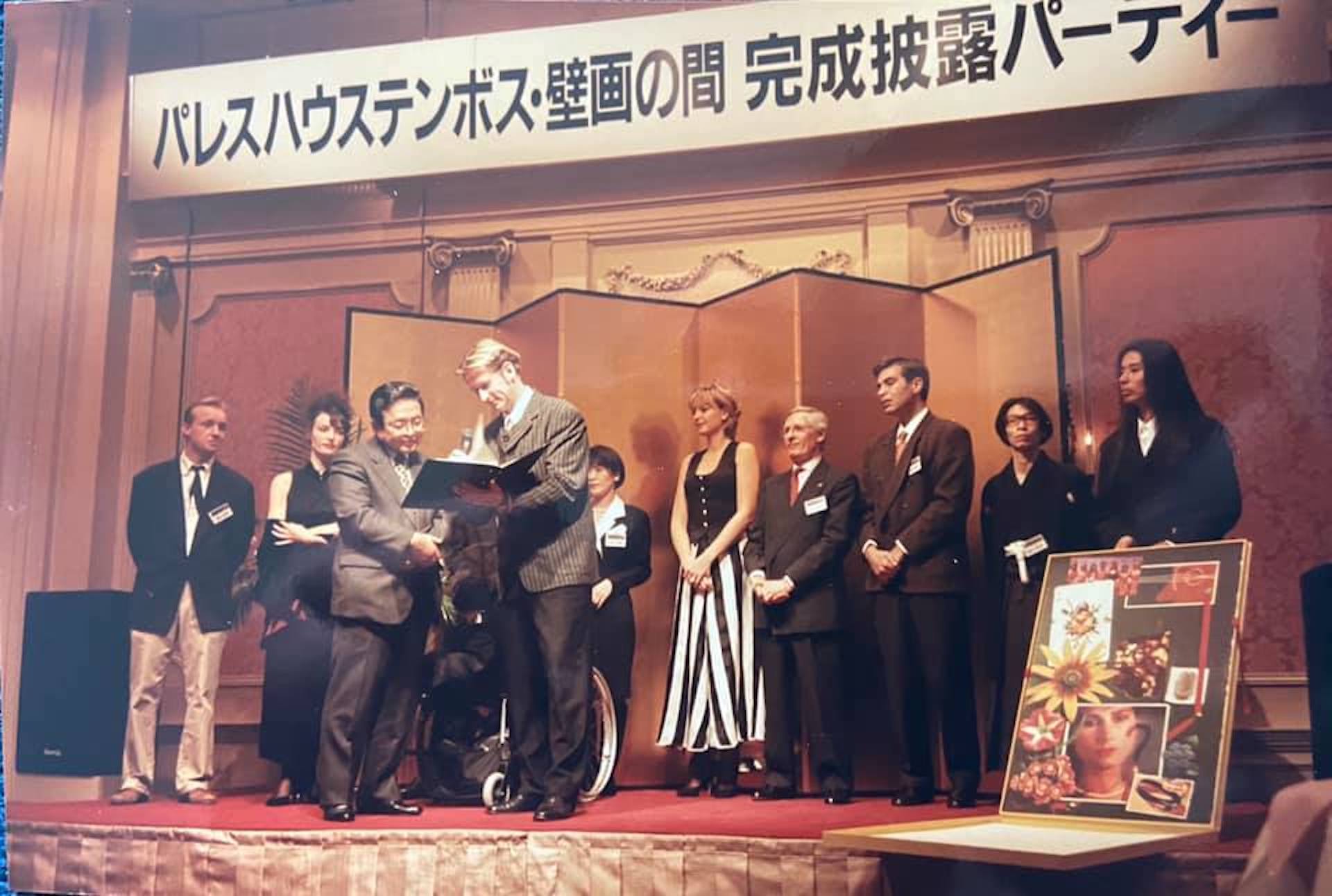 In the years that followed until now, Vlugt frequently exhibited in international museums, lived and worked for extended periods in Sao Paolo, New York, Cairo, Oranjestad, Auckland, the Caribbean, Paris, among other places. In 1994 he received the Dutch National Prize for Graphic Art. In 1999 the unique book 'The Nomad' by Bonk is presented, for which Vlugt collaborated with Pieter Bijwaard, poet Pieter Boskma and writers Joost Zwagerman and Adriaan van Dis, among others.
Vlugt was a visiting professor of sculpture and a state commissioner at the Royal Academy of Fine Arts in Antwerp. Together with the English sculptor David Mach he created 18 different ceramic artworks, three of which are 36 meters high, on the old site of the former Ajax soccer stadium De Meer.
From 2003 Vlugt crafted significant art projects for cruise ship shipping companies, such as the majestic theatre curtain for the most prominent theatre at sea, on the Queen Mary 2. The cruise ship MS Nieuw Amsterdam of the Holland America Line features a two-by-seven-meter collage.
Image
Since 2011 Vlugt has been running the 1-teacher Art Academy Beeldproeverij in Amsterdam. In 2014 Vlugt was 1 of 4 sculptors of the international sculptors collective 4D. With Manolo Gonzalez (Las Palmas), Marcos Lora Read (Santo Domingo), and Mark Gibian (New York), he regularly exhibits together. Alternately, one of the four sculptors hosts a 4D exhibition in their home country. In the summer of 2018, the last 4 D-exhibition took place on the beautiful farm of art dealer and appraiser Willem Röling in Uitgeest (NL). The following 4D exhibition will take place in 2022 in New York. Galeria Saro Leon in Las Palmas represents Vlugt's work internationally.
All photos of new artworks were taken by photographer Edo Kuipers.