Nederlands Fotomuseum, Foam, Stedelijk Museum Amsterdam
Now You See Me Moria
Personal experiences, anger, and pain are the basis of a special project in which refugees share photos and stories via Instagram about their daily life in Moria, the largest refugee camp in Europe, located in Greece. It is the first time that three Dutch cultural institutions, being the Nederlands Fotomuseum, Foam, and Stedelijk Museum Amsterdam, collaborate to host a platform for the international collective Now You See Me Moria. The institutions aim, each from their own perspective, to show these disconcerting images to a broad audience. The photos and open call posters provide a new perspective on reality. Apart from the fires in September last year, hardly any images come out or are in the news.
The photos show the daily life in the camp, the appalling conditions, but sometimes also images of unexpected beauty. In addition to Rotterdam and Amsterdam, Now You See Me Moria will be presented at various cultural locations in Europe this year including Munich (GE), Vienna (AT), Barcelona (SP), Getxo (SP), and Viseu (PT).
Images from Moria
Now You See Me Moria started by Amir in August 2020, a young Afghan refugee, and Spanish image editor Noemí, who lives and works in the Netherlands. In an effort to make people in Europe aware of the inhumane situation in Moria, they launched an Instagram account sharing photos and stories about daily life in the camp.
Image
What makes these photos special is that they were taken by photographer Amir, a refugee himself and stuck in Moria as a resident for a year. In a co-authorship with Noemí, Ali, and Mustafa from Afghanistan and Qutaeba from Syria, refugees also residing in Moria, he records life there. Like no other, these photographers are capable of portraying the intimate everyday world of the residents because they themselves are part of it.
Many photos are made with a cell phone and the refugees, including many children, are not recognizable on the pictures because of their safety. Even though the photos are not always perfectly framed or aesthetically pleasing, their strength lies in their authenticity and purity. Often the horizon is skewed, or heads and feet fall outside the frame, but while watching you feel the necessity of what the images want to tell.
Instagramaccount @Now_You_See_Me_Moria
After its launch in the summer of 2020, the Instagram account @now_you_see_me_moria almost immediately attracts the attention of media, individuals, and organizations from all over Europe. The account now has more than 30,000 followers and new photos are posted daily. The medium Instagram and the algorithms offer the inhabitants of Moria a democratic window to the rest of the world that is different would remain absolutely out of reach for them.
Image
Open call: Love for Moria
In January 2021, the collective organized a call to raise awareness of the situation in Moria. They invited designers from all over the world to create posters based on the photos taken in the camps. The response is overwhelming: 449 graphic designers responded to the Love for Moria call. The promotion resulted in 449 different posters that were downloaded and printed on Valentine's Day, February 14, 2021, to be visible on windows and walls in countless places in Europe. A poster campaign intended to depict anger and impotence and as an indictment of the failing European refugee policy.
Crowdfunding for the ACTION BOOK passed in record time
In collaboration with Paradox, the collective Now You See Me Moria is developing an 'action book' that through its design and structure invites to be shared rather than to be kept, in order to spread the message further. The book is a ready-made protest object. The exhibition kit and book include: 449 posters, 16 photos, introductory texts such as the Now You See Me Moria manifesto, and statements by Amir, Qutaeba, Ali, Mustafa, and Noemí. The Now You See Me Moria - Action Book will be launched in mid-June 2021. It can be pre-ordered from Paradox. A possible financial positive result for the Now You See Me Moria - Action Book will be transferred to the community in Moria.
Image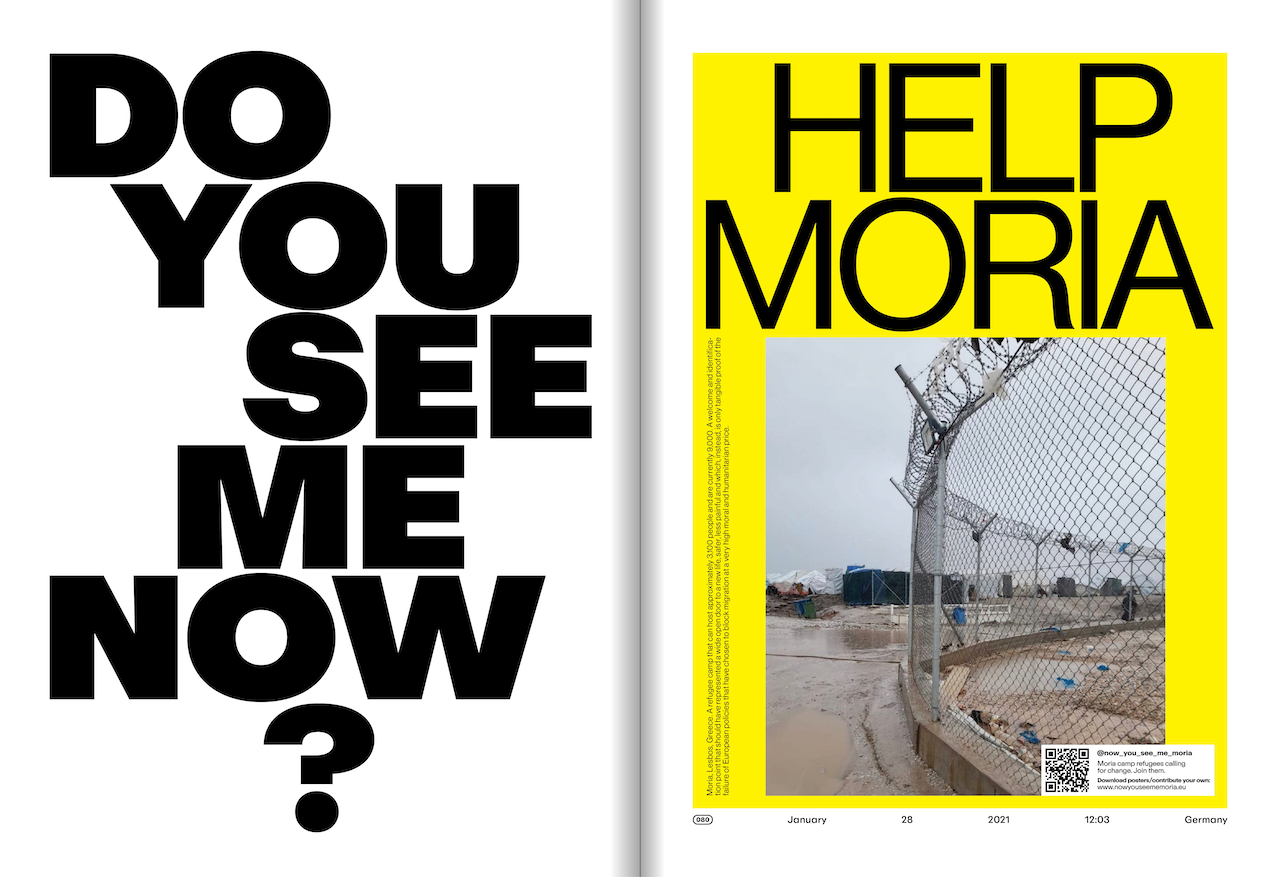 Largest refugee camp in Europe
Moria on the Greek island of Lesbos is the largest refugee camp in Europe. It is overcrowded and the living conditions are inhumane. Moria was intended to house 3,000 people, up from 20,000 at the peak of last summer. In September 2020, a fire destroyed the camp, about 7,000 people were forced to move to a new camp. In Kara Tepe, better known as Moria 2, conditions have deteriorated dramatically. Human rights are violated on a daily basis. Journalists and photographers are not allowed to enter the new camp while emergency workers are instructed not to take photos: the visibility of the camp in international media has thus been reduced to almost zero. However, visibility is key to driving change.
About the collective Now You See Me Moria
Now You See Me Moria consists of Noemí, a Spanish photo editor living in the Netherlands, photographers Amir, Ali, and Mustafa from Afghanistan, Qutaeba from Syria, graphic designers such as Raoul Gottschling, street artists, political science students, and a growing number of others. To ensure their safety, the last names of the photographers and those closely involved are not given. All those involved in this project cooperate on a voluntary basis. It is an internationally growing (citizen) movement - to which more and more civil society organizations are joining to bring the inhuman conditions in Moria to light and put them on the political agenda. With the aim of realizing an immediate evacuation of the camps and a change in the European migration policy.
Image
Nederlands Fotomuseum | Now You See Me Moria
In the collection of the Nederlands Fotomuseum, engaged photography and attention to the less fortunate play an important role. The museum has a lot of work in its collection by photographers such as Ata Kandó, Peter Martens, Ad van Denderen and Maria Toby who all showed commitment to people on the run and in need. For example, Kandó portrayed Hungarian refugees in 1956 and Ad van Denderen portrayed European migration history in his Go No Go project by following migrants and refugees on their way to a better life during fifteen years. The Now You See Me Moria project builds on this tradition. The Nederlands Fotomuseum will be showing a selection of the photos, open call posters, and a number of video installations as soon as it is allowed to open.
opening May-June 2021 (dates subject to change)
Nederlands Fotomuseum
Wilhelminakade 332
Rotterdam
Nederlandsfotomuseum.nl
Foam | Now You See Me Moria
Foam is an internationally operating organisation in the field of photography, based in Amsterdam. Foam enables people all over the world to experience and enjoy all aspects of photography, whether it's at our museum, on the digital platform, via our internationally distributed magazine or in our Editions department. Foam discovers, develops, defines, collects, publishes and stimulates. In this process, scouting and presenting emerging talent is one of our distinguishing qualities. Foam focuses on talent, development, internationalization and education, with an explicit focus on strengthening the connection with society. Themes such as migration, identity, sexuality, economic justice and climate are to a large extent formed, determined and shared by images in today's society. Foam wants to show, interpret and discuss these themes from photography more emphatically on the basis of public programs and exhibitions. The Now You See Me Moria project fits in with this ambition. Foam will show a selection of the photos and posters, spread over the entire building on Keizersgracht.
Opening July 2021 (dates subject to change)
Foam
Keizersgracht 609
Amsterdam
foam.org
Stedelijk Museum Amsterdam | Now You See Me Moria
The Stedelijk Museum has an important tradition of photography and graphic design. Graphic design has been on display since the 1930s and the museum has one of the largest collections in the world. In 1958, the Stedelijk was one of the first modern museums to see photography as a fully-fledged art medium, and now it has a photo collection of international importance, with an important place for documentary photography. The photos of the Moria photographers and the open call posters of the Now You See Me Moria project are the second edition of the POST/NO/BILLS concept in which the Stedelijk shows current graphic design, responding to trends and social developments. The photos and posters are given a central place: around the historic staircase, one of the most important walking routes in the museum.
Opening September 2021 (dates subject to change)
Stedelijk Museum Amsterdam
Museumplein 10
Amsterdam
stedelijk.nl